Last updated on June 6, 2023 10:33 pm
All-inclusive Train Horn Kit - Primed with everything you need, this kit is ready for install right out of the box! PLEASE KEEP IN MIND THAT THIS COMPRESSOR IS NOT WEATHER RESISTANT. THIS UNIT MUST BE INSTALLED IN AN ENCLOSED AREA! Our compressor/tank is pre-plumbed and even pre-wired! The horn also comes with the solenoid valve pre-installed. This makes the install simple and easy.
Deep Tone - This horn was designed with a large throat to provide a deeper tone. This isn't a wimpy air horn, this is a deep and powerful sounding train horn!
Pre-installed Air Valve - This horn is ready to accept 1/2" airline at a moments notice. Wire the solenoid to your activation switch/button and you are set!
3-Chime Construction - With 3 trumpets mounted on one bracket you can't go wrong! With a manifold design, installation has never been easier. Just mount the bracket to your vehicle with the provided mounting hardware and you're done! Plumb in your air supply and you're ready to honk!
Stainless Steel Diaphragms - We use stainless steel diaphragms in our horns to ensure the horn will last for years to come. These diaphragms will never rust out.
Comparing Prices 
$674.99
in stock
6 new from $674.99
1 used from $447.88
as of June 6, 2023 10:33 pm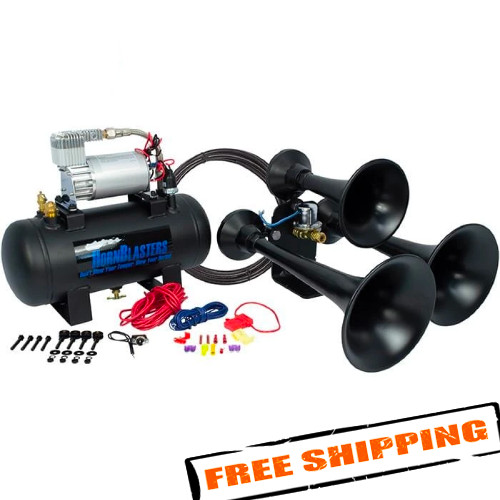 Specification:
Horn Blasters Outlaw 127
| | |
| --- | --- |
| Part Number | |
| Model | HK-C3B-127H |