ARB Off-Road Air Compressor Kit
Last updated on January 27, 2023 2:35 pm
Boostprojects custom kit includes : 12 Volt Twin Air Compressor & Tire Inflation Kit & Digital Tire Inflator
12 VOLT TWIN AIR COMPRESSOR : Pneumatic supply and electrical control for ARB Air Locker(s). (Air Locker Manifold Kit #171503 required) Rapid inflation of small, medium and large tires. Air tools rated up to 85LPM [3CFM] @ 6Bar [90PSI] continuous supply. Air tools rated higher than 85LPM [3CFM] @ 6Bar [90PSI] using an optional air tank suitable to the run time requirements.
TIRE INFLATION KIT : Due to the incredible air-output produced from the Hi-Output compressor, this air compressor requires a unique, high-heat tolerant hose, specially sourced from Japan. Designed by ARB engineers for maximum air flow this Tire Inflation Kit also includes a dust free air chuck, which boasts an enclosed internal bearing system to prevent dirt ingestion.
DIGITAL TIRE INFLATOR: Keeping accurate tire pressure is a necessity for good fuel economy, prolonged tire life and maximum traction off road. Introducing the new ARB Digital Tire Inflator Gauge, which is ready to provide accurate readings and inflation for your next 4WD adventure.
Comparing Prices 
$745.00
in stock
3 new from $744.89
as of January 27, 2023 2:35 pm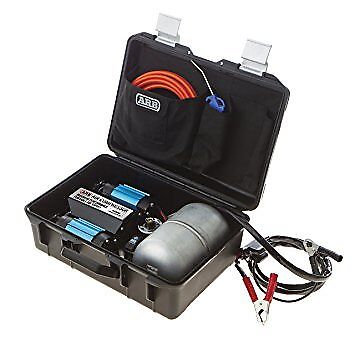 Specification:
ARB Off-Road Air Compressor Kit