Iron Horse IHP5120H1 Horizontal Air Compressor – Portable 5 HP
Standard Features
This rugged 20-Gallon horizontal with 'V' design cast iron pump minimizes vibration,
improves cooling and extends compressor life.
The Thermally protected 5 peaks HP 115-volt electric motor
is CSA/US approved. Installation: Proper care
maintenance and lubrication ensures longevity.
The compressor should always be level for proper lubrication.
Do not over tighten foot bolts as excessive vibration may occur.
Use only in a clean, dry, and well-ventilated area.
The compressor has heat dissipation fins for proper cooling.
Keep the fins and other parts that collect dust clean.
Do not place rags or other materials on top of the compressor,
as this obstructs cooling and can be a fire hazard.
This Rugged "Space Saving Horizontal Portable"
Compressor Comes With A Cast Iron
Cylinder with A 20 Gallon Asme Registered Air Tank
Providing Maximum Air Capacity When Needed..
This Unit Is Oil Lubricated For Professional Use
And Longer Life And Is Powered
By A Thermally protected 5.0 Peak Hp, 115 Volt Electric Motor.
 Other Features
HorsePower: 05.0
Max Rated PSI: 0150
Air Tank Capacity (gal): 020
Electric Motor: 0115V
Phase: 01
Motor RPM: 03600
Amp Draw: 012.5
Length (in.): 035
Width (in.): 015
Height (in.): 028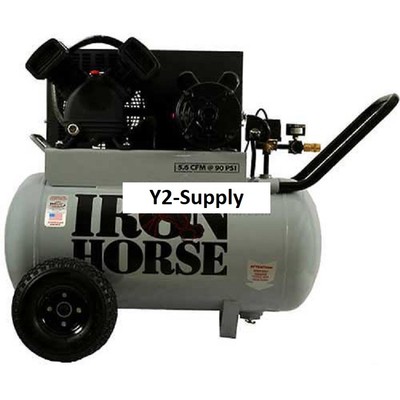 Ebay.com
Specification:
Iron Horse IHP5120H1 Horizontal Air Compressor – Portable 5 HP
| | |
| --- | --- |
| CFM | 5.6 |
| Brand | Iron Horse |
| Drive | Electric |
| HP | 5 |
| Tank Capacity | 20 gallon |