Eagle EA-6500 Silent Portable & Vertical Air Compressor
Last updated on August 6, 2020 1:50 am
Standard Features
The Eagle silent Series EA-6500 air compressor
is the quietest professional grade compressor in its class! it is so quiet,
you may not even hear it running!
These compressors were specifically engineered
and designed for the professional contractor to allow work
in comfort without sacrificing performance.
No need to yell instructions over a loud air compressor anymore.
When it comes to team projects, Eagle 'silent Series
'air compressors allow comfortable, clear communication.
Individual projects are also improved,
as the quiet operation adds comfort to you and anyone close by.
Eight-inch all Flat-free tires are great for rough terrain on a job sight, maximizing mobility. A slow RPM motor reduces noise,
heat, and friction, while dual air intake allows twice the air.
These features promote less wear and result in longer life.
Outside, the integrated control panel
features an adjustable pressure regulator and dual
'push to Lock' Quick couplers to run multiple tools at once.
 Other Features  
Rated at 53 dB from 25 feet away; softer than most conversations
Life expectancy more than 4 times longer than most oil-free air compressors
2-HP Running & 2.5-HP (Peak) Motor
Draws only 14 amps, works on most household 115V outlets
Oil-Free Double Piston Pump System
Produces 6 CFM at 90 PSI; 7.9 CFM at 40 PSI with a 50% duty cycle to power small air tools
Oil-free system requires no pump maintenance
Top-Mounted Control Panel
Dual gauges to monitor tool & tank pressure at a glance
Two 1/4″ air hose quick connectors for fast tool changes
Oversized regulator knob is easy to use, even wearing work gloves
20 Gallon Air Tank
Easy to transport & store; 125 PSI maximum pressure
Lever-Type Tank Drain Valve
Simplifies maintenance; extends air tank life
Roll Cage Design With Anti-Vibration Feet
Never-flat wheels take on stairs & rugged terrain with ease
Eagle EA-6500 Silent Series Air Compressor 125 Psi Max Hot Dog with Wheels, Blue, 20 gallon
out of stock
Check It Out
Amazon.com
as of August 6, 2020 1:50 am
Features
Ultra quiet operation
Oil free double PISTON pump
Low amp draw increases life expectancy by 4 times over the average "oil free" air compressor
20 gallon capacity
2.5 HP peak 7.9 CFM @ 40 PSI, 6 CFM @90 PSI, and 125 PSI max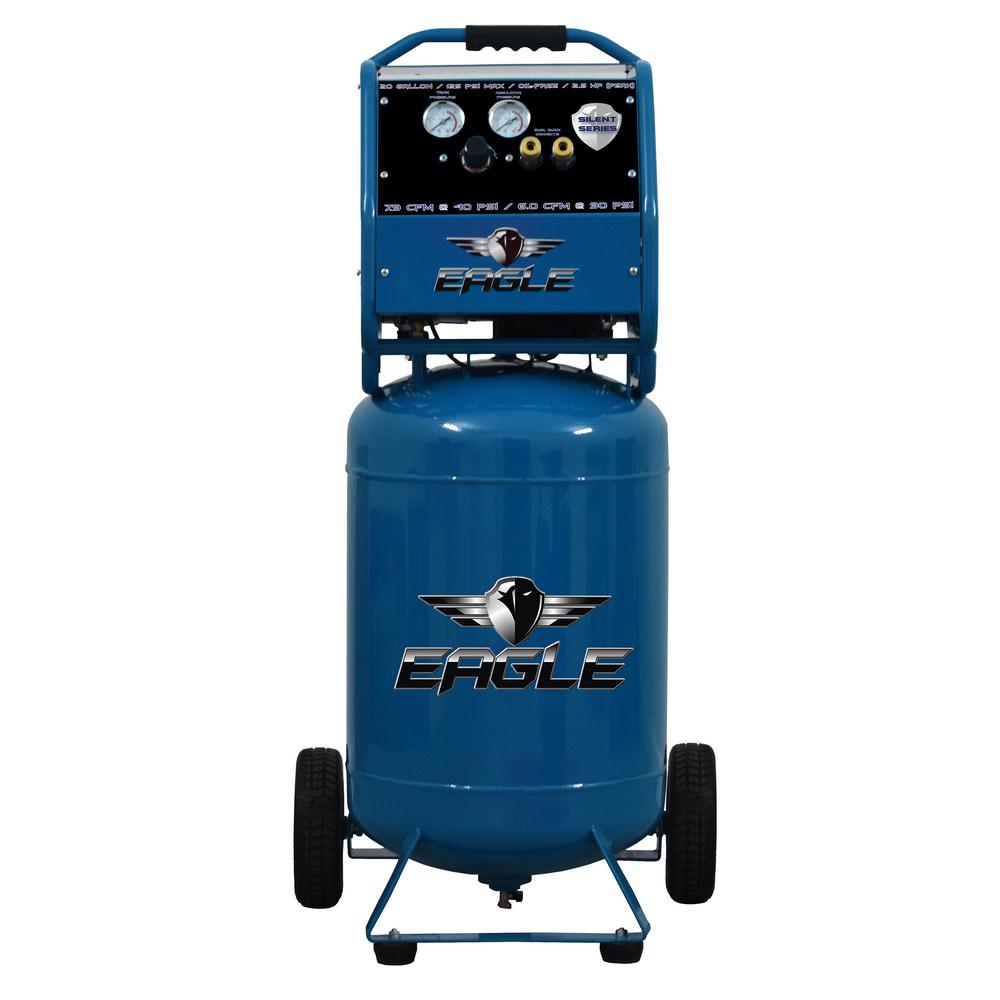 Last update was on: August 1, 2020 2:20 am
The Eagle Silent Series is geared toward the professional contractor. The EA-6500 is a 2.5 HP (peak) air compressor with an oil-less compressor head and features only 53 dB at 25 ft. This air compressor has a vertical 20 Gal. ASME Certified Tank.
Specification:
Eagle EA-6500 Silent Portable & Vertical Air Compressor
| | |
| --- | --- |
| CFM | 6 |
| Brand | Eagle |
| Drive | Electric |
| HP | 2.5 |
| Tank Capacity | 20 gallon |