Refrigerated Air Dryers For Sale
Refrigerated air dryers work by cooling the air around them and making it cooler, thus condensing a lot of the water vapor.
Refrigerated dryers can make the air reach dew points around 36 degrees F, but it cannot achieve a dew point below freezing. That means that there's still some water vapor leftover in the air. That being said, you can't use a refrigerated dryer in a water-sensitive application
If you're looking for an air dryer for your operation, there are two major types you can go with, refrigerated and desiccant. Refrigerated air dryers have a lower operating cost and deliver 90% dry air, which you probably realize at this point.
How Does a Refrigerated Air Dryer Work?
Just like the name implies, it works by refrigerating, or cooling, the air around it. The air enters warm and wet, then the unit will cool it to around 36 degrees F.
The water vapor in the air is going to condense and become water. Think about your window on a cold day, it gets foggy because the air vapor is turning into water.
The air dryer then gets rid of all the water using a water trap. The cold air then gets heated back up to room temperature.
Since the air condensed to water, the exiting room-temperature air will be much dryer. The unit uses liquid refrigerant to evaporate and cool down the air in the beginning.
Desiccant vs. Refrigerated Air Dryer
Choosing between refrigerated and desiccant air dryers boils down to how much moisture content you need for your application.

bzWidget.init();

What is a Desiccant Air Dryer?
Desiccant dryers work by passing the compressed air across a trough, or bed, of desiccant material. Desiccant material is a material that absorbs water vapor molecules.
After the air passes, the bed is then refilled with desiccant material, called regeneration. Some timers allow the user to control the regeneration phase.
This style of an air dryer can either be heated or heatless and can achieve dew points at -40 degrees F. They are a style used in a water-sensitive application.
Major Difference: Cost
Cost is a big difference between these two styles. Refrigerated units cost much less to run because they use a refrigeration compressor and heat exchanger to remove moisture.
Applications
For general use, refrigerated air dryers are the preferred style. When you use compressed air, it always contains water because when a compressor sucks in air, there's water in the air.
You would use a refrigerated air dryer to take all of the water out of the air before use. It will protect your piping, equipment, and tools.
In general terms, these units are used in applications that you need compressed air, but you need to get rid of most of the water in the air. Using pneumatic tools, PET blow molding facilities, packaging plants, injection molding, and some small-scale air painting applications.
Using a refrigerated air dryer avoids corrosion in your equipment and prevents the outdoor compressor airlines from freezing.
How to Size a Refrigerated Air Dyer
The way to calculate what size dryer you need is to divide the total flow of the system by the total correction factor using the below chart.
For example, if you're running 200 CFM at 120 PSI and the temperature is 110 degrees F, your calculation would use the 0.82 correction factor.
If your ambient air temp is 95 degrees F, then you would use 1.05 from that chart. Multiply the two correction factors together to get the true capacity.
0.82 x 1.05 = 0.86
This is saying your true capacity is 86% of what your dryer is nominally rated to. If you need 200 CFM, then you would divide 200 CFM / 0.86 = 233 CFM.
You would need a dryer with a capacity of 233 CFM to achieve the conditions spelled out above. This calculation holds true for whatever pressures and temperatures you're using according to the above charts.
Brands
Like any other market, there are a few top brands that people gravitate to. When it comes to refrigerated air dryers there are quite a few brands worth noting. Ingersoll Rand refrigerated air dryer is among the most well-known.
Some other brands in the market are HPDAVV, Quincy, Speedaire, SMC, Hankison, Central Pneumatic, and Schulz.
How Much Does the Average Refrigerated Air Dryer Cost?
A stand alone air dryer, with 20 CFM, would cost around $800. However, the answer to this question depends on a lot of factors. The cost is associated with the CFM draw and PSI the unit can accommodate, as well as whether it has a regulator and pre-filter.

bzWidget.init();

As always our options are for DIY business owners and HVAC professionals. If you like to help fill out the form below to receive help with selecting the right dryer for your business.




bzWidget.init();

Refrigerant Compressed Air Dryers
This unit from Ingersoll Rand is rated at 106 CFM and will provide continuous dry air to your operation. It's self-contained so you don't need any ancillary equipment to set it up or keep it running.
It uses R134A refrigerant to operate. The overall dimensions are 21.5 x 16.5 x 22.5 inches, so it definitely takes up a little bit of space.
The cost is higher than other air dryers in this space, but that's to be expected with this brand. Ingersoll Rand is a high-quality, built-in-the-USA company that always over-delivers with its units.
Its throughput is top of notch and has minimal wasted energy. It also allows for control over its microprocessor via easy-to-use graphical interfaces. This lets you adjust and manage the different system parameters easily and quickly.
Of course, this unit is corrosion-resistant and has greatly reduced energy consumption. The fans on this unit are variable-speed which helps to reduce power consumption. It will ensure a consistent dew point.
Next up is a 3-1 compressed air-drying system from Central Pneumatic. It has a 1/4 hp motor that runs the show, and it can accommodate compressors up to 21.6 CFM, 140 PSI max.
This is a much smaller unit and it's ideal for shops or small operations. This system boasts its high-efficiency pre-refrigeration system, which is three times faster than its competitors and takes 60% less power to operate.
It removes up to 90% of all moisture in the air. It suggests an operating pressure of 100 PSI, so make sure your application will accommodate that.
This stand-alone dryer by Schulz can reach up to 35 CFM at 100 PSI and can go up to 220 PSI. It's a heavier-duty unit. It works well with 7.5 and 10 HP compressors alike.
It uses R134a refrigerant to operate. Its dew point stands right around 41 degrees F. It has a really great capacity that can be used for different manufacturing operations.
Overall dimensions measure 18.75 x 15 x 20.25 inches and the unit weighs around 62. It has available add-ons for a pre-filter and a regulator, so you won't have to shop around for compatible pieces.
This unit by Quincy purifies the compressed air by chilling it to a temperature between 39- and 50-degrees F. The airborne oil and dirt go to the separator where it's taken away from the air stream and drained away.
This refrigerated air dryer is best when used in smaller systems with constant loads. It uses a 2-stage heat exchanger to keep the dew points consistent.
It can achieve up to 25 CFM and it uses environmentally friendly R134A and R404A refrigerants. It measures in at 21 x 14 x 20 inches and has a quiet operating volume. It has a timed-release valve for the debris filtered out of the air.
The second IR refrigerated air dryer on this list is lighter duty than the previous. It can go up to 25 CFM and this unit focuses on reducing energy use.It has efficient heat exchangers, a stainless-steel demister that's built in to remove the moisture in the air.
It also has an electronic drain valve that's programmable to minimize air loss and reduce energy use. This high-efficiency moisture-separation unit makes sure you have a long-term, steady supply of dry air.
The advanced microprocessor control allows the user to quickly and easily adjust the system parameters.
It even has a built-in coalescing filter that stops the contaminations by separating the water and oil from the compressed air. The variable-speed fans reduce the power consumption during operation.
It also maximizes cooling capacity and keeps the dew point consistent. It weighs around 60 pounds and measures 19.5 x 19.5 x 17.5 inches. It can achieve a maximum PSI of 203.
Let's take a look at SMC's refrigerated air dryer. It uses environmentally-friendly R134a and R407C refrigerants.
This unit can accommodate an inlet temperature of 40 degrees C. It uses stainless steel to improve corrosion resistance and it has a plate-type heat exchanger that's very high efficiency.
The design is compact and only weighs 55 pounds. The control system is really simple to read and understand, and the evaporator gauge on the unit is easily readable.
It's a smaller unit that shouldn't be used for manufacturing operations that are moisture sensitive.
Hankison's air dryer unit operates up to 10 CFM and can reach pressures up to 250 PSI. It weighs 64 pounds and measures 15 x 13 x 13 inches.
It has a really easy-to-use on/off switch and an indicator light to let you know if it's connected to power. It uses R134a refrigerant for operation and can operate in environments with an ambient temperature up to 110 degrees F.
The inlet temperature can go up to 120 degrees F. The compressor has a 3HP motor which explains why the pressure can go so high. Its motor is a 1-phase, 0.20 kW motor. It's a small machine and can be used for applications that don't put too much strain on the unit.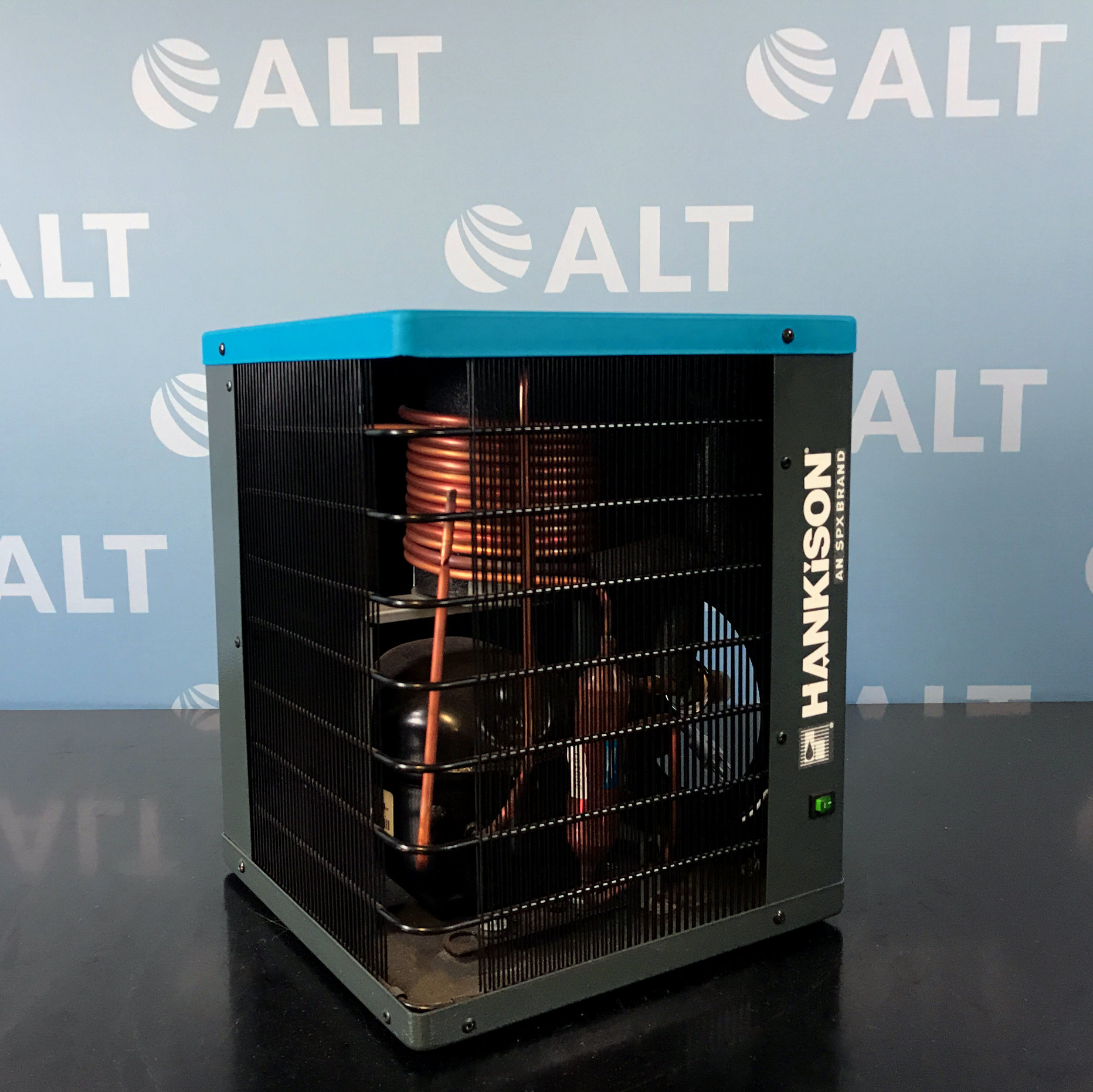 8. HPDAVV Rotary Screw Air Compressor
This refrigerated air system by HPDAVV allows for up to 2.6 CFM. It has automatic condensation temperature controls and dew point temperature controls. The unit weighs in at 18 pounds and measures 20 x 14 x 22 inches. It uses R134a refrigerant to operate.
The unit has an LED dew point display as well as an LED alarm code display and operation status indication. This dryer has a constant pressure expansion valve, as well as a compressor automatic start/stop switch.
This makes continuous operation a breeze and super simple. The compressor in this system has a 0.7 HP motor with it.
This system is small and really durable, so you won't have any long-lasting issues with it. It can be used in operations such as chemical, food, textile, and manufacturing.
Now let's take a look at Speedaire's air dryer. It can reach a consistent dew point of 46 degrees and can accommodate up to 10 CFM and up to 250 PSI. That's a huge amount of pressure. It can operate at a maximum ambient temperature of 110 degrees F. It uses R145a refrigerant for operation.
This unit has an on-off switch and a light that shows if it's powered up. The overall measurements are 15 x 13 x 13 inches and it weighs 40 pounds. The unit has a no air-loss float drain and high-efficiency separator to keep the air clean.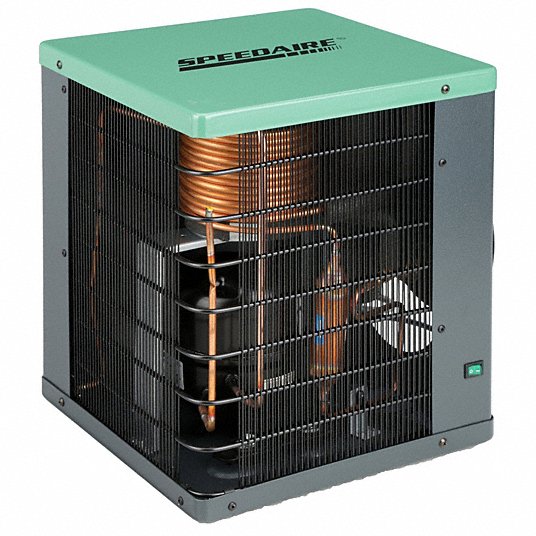 10. HPDAVV SE10

Heavy Duty Inflator – Air Dryer Refrigerated System
The last unit on this list is another one from HPDAVV. It has a max air volume of 1.35 CFM and a max pressure of 150 PSI. The attached compressor has a power rating of 0.70 HP and it's a 1-phase motor.
The evaporator is an aluminum alloy plate to keep weight down and turn out high efficiency. It uses R134a as the refrigerant. It measures at 25.5 x 18 x 25 inches so it's on the bigger size compared to other units.
This unit is rated to only ever see a max of 3.6PSI pressure drop. It has a lot of cool features on it too. It has a LED alarm code display, an LED dew point display, and an operation status indication.
This refrigerator air dryer also has intelligent anti-freezing protection. It delivers this through a constant pressure expansion valve and a compressor automatic start/stop. It boasts automatic temperature control which will dial in the dew point to the perfect setting.
Closing Thoughts
There are a lot of options when it comes to drying your compressed air. If you opt to go with a refrigerated air dryer, there are a ton of different products and brands you can choose from. Any of the units on this list are top of the line and deliver exactly what you need.