9 Best Onboard Air Compressors [Offroading & Airlifts]
Onboard air compressors are meant to be able to power multiple applications. With just one system, you can rapidly fill up large off-road tires to the correct PSI after a long day out on the trails.
These systems are also generally permanently installed on the vehicle. You can use it for tire inflation, air lockers, load leveling, air horns, air suspension, and various air tools.
Onboard systems are also great for applications that require higher CFM ratings than your standard portable air compressor. If you don't have enough CFM, you won't be able to run your pneumatic tools continuously.
Certain onboard compressors are capable of air up to 200 PSI. So if you're constantly on the road or cruising the outdoor trails, you would certainly benefit from an onboard air compressor.
Pressure and airflow are the two most important things to consider when buying an onboard air compressor.
The reason is, that your tire size affects the air pressure and airflow into your onboard air compressor. Large tires mean more pressure and small tires mean less pressure and airflow.
Most people choose onboard compressors with a rating of more than 2.5 CFM @ 90 PSI, but ultimately it depends on what you plan on using it for.
Below, we have compiled a list of 5 onboard air compressors we tested, one for each application that you may need it for.
Top Onboard Air Compressors
| | | | | | |
| --- | --- | --- | --- | --- | --- |
| Product | CFM | Max PSI | Weight | Warranty | Duty |
| ARB CKMA12 | 2.4 @ 29 PSI | 150 | 8.6 lbs | 2 years | 100% |
| Viair 20001 | 1.86 @ 200 PSI | 200 | 34 lbs | 1 year | 100% |
| GSPSCN | 5.65 @ 150 PSI | 150 | 6 lbs | 1 year | N/A |
| Viair 400P | 2.30 CFM @ 150 PSI | 150 | 10.4 lbs | 1 year | 33% |
| Smittybilt 2781 | 5.65 CFM @ 150 PSI | 150 | 20.3 lbs | 5 years | 100% |
The ARB CKMA was chosen as the best for jeeps due to its 100% duty cycle motor and durability.
Don't be thrown off by this compressor's small size. Even though it doesn't look like much, it's a powerful tool that may greatly benefit you and your jeep.
It runs off of a simple 12V outlet and is equipped with a cylindrical roller to ensure maximum longevity. This simple but durable construction enhances the flow rate as well.
The first thing we did with the compressor was to turn it on and inflate some tires on our jeep. Standard Jeep tires require between 32-35 PSI.
Since the compressor has a 100% duty cycle, we were able to fill all four tires from empty to 35 PSI in a single duty. It took roughly 2 minutes per tire. The compressor starts at 130 PSI and stops at 150 PSI, but you can use the 70/100 pressure switch if you need to.
We were surprised to find that the ARB CKMA offers 2.4 CFM @ 29 PSI. This is sufficient enough to run an air chuck and smaller pneumatic tools that may be needed for the Jeep such as an impact gun or sprayer. For this, we like to hook the compressor up directly to the battery to ensure proper power.
Weighing just 8.6 lbs and measuring 5.7" x 7.5" x 3.8", it can be mounted quickly and easily. The wiring wasn't too difficult and it's pretty straightforward. The kit includes the mounting hardware and a mounting plate. We also had to install the pressure switch, air filter, and safety valve, which was quick and easy.
The biggest issues we noticed were that the battery clips were of smaller size and it was difficult to put them on the battery and the compressor would heat up if it was running for extended periods.
Due to its small build, it can easily be mounted. Wiring it is a cinch, too. It's generally straightforward. It comes with all of the mounting hardware and a mountain plate. We also thought that the pressure switch, air filter, and safety valve installation were easy.
We chose this as the best compressor for Overlanding because it provides us with 5.6 CFM and a quick inflation speed of 1.5 minutes for most applications.
Overlanding is fun and a lot of times, you're going to need a compressor for a variety of tasks such as inflating tires or rafts. The GSPSCN air compressor is a budget-friendly device that came in handy for us while Overlanding.
For starters, it has a compact design that makes it easy to store and keep out of the way until you absolutely need to use it. It has a solid construction that can handle bumps in the road while traveling. It was extremely easy to use and plugs in via a 12V outlet or can be clipped to a battery with the alligator clips. The extra-long 6.5 heavy-duty power cord came in handy for us.
This small compressor has a max PSI of 150 and can inflate a standard-sized tire in 1.5 minutes. For us, it ran for 40 minutes at 40 PSI in 70-degree weather. It got a little hot, but we shut if off for a few minutes and it cooled off quickly. There's a 28ft self-coiling hose that comes with the compressor to reach all 4 tires without having to move the unit around.
The dual cylinders within the compressor give it the ability to put out 5.65 CFM @ 40 PSI. This was perfect for using various pneumatic tools that we needed along the way such as an air chuck for tire inflation and an impact gun for lugnut removal/application.
Since the motor is direct driven, it lowers the rotating speed for high efficiency and low noise output. We do recommend that you turn the compressor off for 5-10 minutes after every 20 minutes of use.
Our only problem with this compressor was that the pressure gauge seemed to be inaccurate at times.
We ultimately chose the Viair 40047-400P as the best for an RV because of its quick inflation time of 0 to 30 PSI in less than 5 minutes.
The Viair 40047 400P was one of our favorite 12V onboard RV air compressors to use. It was used on our RV and was lightweight and compact enough to not take up a ton of space in our storage areas when it wasn't in use.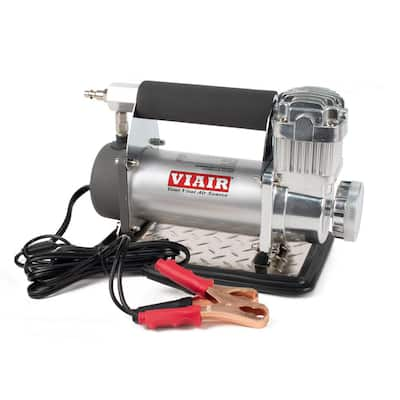 We were impressed by the inflation time the compressor provided us with. It took just under 5 minutes for the compressor to inflate a 35" tire from 0-30 PSI.
We tested this on various sized tires ranging from a simple 16" tire all the way to 38". For a 16" tire, it took just 2 minutes to inflate completely from 0-32 PSI. As the tire sizes go up, the demand for more air will increase, so it will take longer to inflate them.
The 5-in-1 inflator/deflator tool gives you everything you need when it comes time to tend to your tires. In all, the compressor can put out 150 maximum PSI and can operate for 40 minutes before needing to rest. This is with a 33% duty cycle.
In addition to this, the compressor can put out 2.3 CFM @ 150 PSI. As the pressure inside of your tires or whatever you're inflating increases, the flow rate will decrease. The lowest it will go is 0.71 CFM @ 150 PSI.
This special design protects your tires from being over-inflated, but there's also an automatic shutoff feature that gives you the ability to pre-set your specific PSI to avoid over-inflation.
Even though this was an awesome machine to use, it has its drawbacks. It's pricey and it draws a maximum of 30 amps. You can buy it at home depot also.
4. Smittybilt 2781 – Best Budget Onboard Compressor
Since we all can't afford expensive compressors, we chose the Smittybilt 2781 as our budget pick because it costs just under $100.
People looking for onboard compressors are generally those who like to go offroading or Overlanding. This budget compressor will be your best friend, especially if you're on a budget. It has a ⅓ HP oil-less direct drive motor and a 30 amp inline fuse. It may be small, but it performs quite well.
The Smittybilt has a maximum PSI of 150 and can work continuously at 40 PSI for 40 minutes before it needs to cool down. This rating is based on an outdoor temperature of 75 degrees Fahrenheit.
The ⅓ HP motor we mentioned allows the compressor to work as hard as it does to deliver 72 liters per minute. The thermal cutoff switch will keep the motor from overheating and overextending, which can lead to failure. You can buy it also walmart.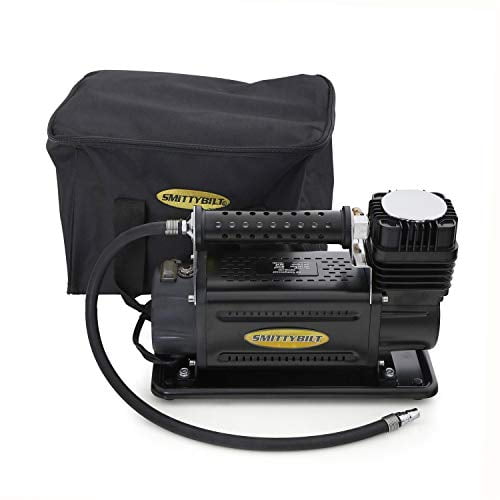 In addition to this, we were provided with 5.65 CFM @ 150 PSI. We were able to inflate a completely flat tire from 0-35 PSI in just under 2 minutes.
Although It doesn't take long to build pressure within the compressor, it does take a while to inflate tires larger than 20" or that require more than 40 PSI. However, you can choose to operate it as a portable device or stationary on your vehicle.
We thought that the Viair 20001 was the best onboard compressor for a service truck because of its robust nature and heavy-duty 100% cycle motor.
In our opinion, the 12v VIAIR 20001 is a fantastic option for a service truck. It's a pre-packaged onboard air system that offers tire inflation to 4 37" tires in one go. It has a 100% duty cycle that helps with such tire inflation. We found that even with extended use, the motor doesn't overheat, even at 150 PSI. It can be constantly used for up to an hour without interruption.
This onboard unit has a 2.5 gallon, 200 PSI air tank and runs at 100% @ 100 PSI and 50% @ 200 PSI with a CFM rating of 200 PSI @ 1.86. There is a handy dash panel gauge in the onboard air system that has an easy-to-use on/off switch. Additionally, there is also a tire inflation gun with a 200PSI gauge. We found that it can fill a 35" tire from 15 PSI to 30 PSI in just over 3 minutes.
Installation is straightforward in our opinion. Everything needed to install this to your service truck is included. The system is super flexible so you can mount it wherever you want it to go.
It comes with wires and the hoses included are ideal enough for most installations as well. The only issue we found with this compressor is that the gauge on the nozzle seems to read about 5 PSI higher than the pocket gauge. Not a big deal, though. You can buy it tractor supply.
6. ARB CKMA12 – Best for Drag Racing
This onboard compressor is small enough to fit in even the tightest spots. As you may well know, drag racing cars don't have a ton of room, which makes this compressor an ideal option for you.
When activated, the compressor will build pressure to its maximum 150 PSI and will shut off. It will then turn back on when the pressure drops below 130 PSI. If you aren't looking for that much pressure, ARB also has a 70/100 switch you can install.
We discovered that the ARB 4×4 compressor can inflate up to four 35" tires in just one duty and can air one 35" tire in just over 2 minutes. This is perfect for those sudden flat tires while racing.
The compressor is super lightweight but has quality components that allow for quiet operation and long life.
It's completely sealed to keep out moisture and dust. The motor is also thermally protected against extreme temperature damage. We do want to say that we found the compressor got very hot when used for extended periods.
7. Air Lift 25980 74000EZ – Best Onboard Air Compressor For Airlift
If you're looking for convenience and ease of use for your airlift, consider the AirLift 74000EZ wirelessAIR compressor. It's convenient for a variety of applications such as changes in load or road conditions.
The Dual Path system inflates and deflates each air spring independently to various pressures. It's a great solution if you need to inflate your air springs to a certain pressure immediately. You won't need to pull over or find an alternate route. We thought that the low-pressure sensor and auto inflate features came in handy quite often.
The unit was simple to install with the provided mounting bracket and hardware. It included the wiring harness and airlines with easy-to-follow instructions. It took us just shy of 3 hours to completely install.
The kit also included an upgraded heady-duty air compressor and manifold that fit snug and secure on one bracket. There were no wires to the cab necessary and ti ran off a simple 12V outlet.
Lastly, the remote and free mobile app are fantastic. You can use the wireless remote inside or outside of the vehicle to deflate or inflate your air springs. Additionally, the app duplicates the functionality of the remote. It was a little finicky at times, but it was still ultimately convenient. You can also buy it here.
Onboard Air Compressors for Airbags & Airhorns
If your vehicle sags in the back while towing or carrying a heavy load, then you may benefit from suspension airbags. These adjustable bags give your vehicle additional pressure when the suspension needs it the most, ensuring the weight is evenly distributed.
Vixen Air Suspension Kit for Truck/Car Bag/Air Ride/Spring. On Board System- 200psi Compressor, 5 Gallon Tank. for Boat Lift,Towing,Lowering,Leveling Bags,Onboard Train Horn,Semi/SUV VXO4852GCF
as of March 21, 2023 6:13 pm
This compressor has a tank capacity of 5 gallons. It runs off of a simple 12V outlet. The tank has four ½" NPT ports in the front, one ⅜" NPT port, two ¼" NPT ports on the left side, one ⅜" NPT port on the right, and one ¼" NPT port at the bottom. It has an oil-less design and is moisture and dust-resistant.
One of our favorite features is the automatic reset thermal overload protector. If the compressor begins to overheat, it will automatically shut off to protect the motor and your vehicle. It also has a 170 PSI on – 200 PSI off pressure switch with a maximum PSI of 200. Additionally, it outputs 1.8 CFM @ 170 PSI.
The kit comes with a remote filter, pressure switch, water trap with coupling, drain valve, relay with pre-wires plug, and all mounting hardware. Installation was fairly easy and took us a little under two hours.
Warning: This will not increase your vehicle's load capacity.
$377.08
in stock
as of March 21, 2023 6:13 pm
Let everybody know you're coming with this onboard air compressor for air horns. These horns are designed with a large throat to emit a deeper tone. We were surprised by how loud these horns were and how well the compressor worked.
HornBlasters Outlaw 1.5 Gallon 150PSI Train Horn Kit - All-In-One Air System - Easy Install - Big Sound
7 new from $561.99
Free shipping
as of March 21, 2023 6:13 pm
The horns are constructed with a 3-chime feature. There are 3 trumpets mounted on one bracket. The manifold design of the compressor made it simple to install. All we had to do was mount the bracket to an enclosed area of our vehicle. All of the mounting hardware was included.
The compressor isn't weather resistant, so it's important that it's mounted in an enclosed area. It does have a wired solenoid that is wired to the activation button.
The horns work well with just 50 PSI, but we recommend running the compressor at 150 PSI to ensure the air horns are at their loudest. With the 2-gallon tank, you will get 5-7 seconds of honk time. We also recommend a ½" airline since smaller airlines will limit the airflow.
$561.99
in stock
7 new from $561.99
as of March 21, 2023 6:13 pm
10. Vevor Train Horn Kit
This premium quality train horn kit is perfect for those looking for a loud air horn. It has a rating of 150 dB.
This is from all four stainless steel horns that all measure different lengths. The compressor itself is composed of zinc chrome plated material and a carbon steel body. It can handle changing temperatures and adapt to different weather.
The compressor itself puts out a maximum of 150 PSI. It has an automatic safety protection design and a 1.6 US gallon air tank. When the compressor reaches 125 PSI, the tank will stop pumping. While it was running, we didn't see any noticeable vibrations due to the 4 vibration pads.
As far as installation goes, it was fairly easy and straightforward. It's flexible and portable, so it can be moved from one vehicle to another. Our kit had the basic parts needed for quick installation as well as additional sealing tapes and 1m extra hoses for replacements if needed. Overall, we were satisfied with this horn compressor kit.
Why You Need a Built-in Air Compressor in Your Truck?
One of the most common uses is to pump tire air pressure, so you're ready for on-road driving. But that's not the only reason to invest in one.
Air horns. Send warnings to other drivers.
Powering small tools. Instead of having to buy separate compressors, use onboard air to power small tools on the road or in your shop or garage.
Overlanding Conveniences. Use to fill air mattresses, power a refrigerator, or warm water for a shower.

To fill airbags that level your vehicle.
But why install a compressor when there is plenty you can take along when you need them?
Space

. Onboard compressors can fit into tight spaces, such as under the hood or under the car.

Convenience

. Once you have installed your compressor, you have the convenience of knowing it's available when you need it.

Time

. You'll get back the initial investment time investment in installation in all the time trying to remember where you put it, making room for it, or having to turn around because you forgot your portable compressor.
Take a look at the best truck air compressors here.
Why An Onboard Compressor Is Needed For Off-Roading
An onboard air compressor is a must-have for off-roading because if you decrease your tire pressure, you're then increasing traction and comfort while on rough terrain.
Your tire pressure should be lowered to about 15 PSI for optimal traction and comfort, but you can only do this if you have a way to fill your tires back up, hence the onboard compressor.
Not only that, but you can use it to inflate a bike tire, air mattress for camping, and more.
Belt-driven Onboard Air Compressors
Imagine being able to fill a tire in 55 seconds. Or an onboard compressor that has 200 psi and 8.0 CMF. That would be possible with a belt-driven onboard air compressor. But does such a thing exist?
Instead of running from your battery, the belt-driven compressor would be driven by your engine's fan belt. So you would get increased power with very little power loss and without draining your car's battery. But does such a thing exist?
Yes and no. You could buy a York or Sanden compressor. But installing one is not easy.
It would need to be lined up with the fan or air conditioner belt.

Then you would need to find room to mount it.

The air manifold would need to be mounted on the vehicle's firewall.

Proper electrical connections would need to be made.

The system would need to be fitted with a pressure relief valve.
To make this work, you would need to have a car that has room for a larger compressor. You would also want lots of experience with this type of installation.
If you are interested in doing this, contact us and we will get you a quote.
Homemade Onboard Air Compressor – Is It Worth It?
If you are a DIY person, you might be wondering if buying the parts for an onboard compressor separately and building your own system is worth it.
That depends on several factors:
How much time you are willing to invest

Your level of comfort working with electronics

Your ability to improvise
To give you an idea of what you will need to do, here are the steps you might need to take:
First, you will need to find a 110-volt air compressor and make sure it has the valves you need (pressure relief, drain, and check) as well as a pressure switch. It should also be rated to fill the tank size you will be using.

If the compressor no longer works (which is why it was so cheap in the first place), you will need to buy and attach a new 12-volt DC compressor motor.

Next, you will need to make sure the pressure switch is rated to turn off at the psi you want. This could mean reconfiguring the switch.

After mounting the compressor motor to the tank, you must run wires from the compressor to the car's battery. Another pair of wires need to be run into the cab to attach to a remote on and off switch.
Assembling and finding parts will take longer than opening a package with all the parts you need. Making sure you connect everything correctly is easier if you have the directions that are included in a complete system.
If you don't have a lot of experience with things like relays, solenoid valves, and up-fitter switches, then a kit will save you time.
Having said that, if you have the time and experience with electronics, then building your own system will let you customize it. It may even be a little cheaper although the savings will be minimal.
How To Hook Up An Onboard Air Compressor
If you need to find out how to install an onboard air compressor, read our detailed installation guide.
Do You Need A Tank For Onboard Air?
This is a common question that is asked from people who are new to onboard compressors. No, you don't need a tank for onboard air unless you plan to use a lot of pneumatic tools.
The only thing the additional air tank will do for you is giving you an extra boost of volume for the first tire inflation. Tankless compressors inflate a 35" tire at an average of 5 minutes per tire.
Why Install When You Can Carry On?
Some people wonder why you would install a compressor on your vehicle when you can simply pack it up and take it with you anywhere you go. There are actually a few reasons why somebody would install it permanently.
First, is the space. Onboard compressors can fit into tight spaces such as under the hood of a car. Second, they're convenient.
Once you install the compressor, it's there whenever you need it without any extra steps needed to be taken. Third, they're time-saving. You'll never have to turn the car around because you forgot it.
Can It Be Installed In A Toolbox?
The main goal of an onboard air compressor is to be accessible, dry, clean, and stay cool when in operation.
An overheating air compressor is the easiest way to have it fail prematurely. You can certainly mount it in a toolbox to achieve all of those goals. Being mounted within a toolbox will keep it protected from the elements and when it's open, the compressor will get adequate ventilation.
If you decide to mount it in a toolbox, you should mount it so it does not slide around. If you're using a smaller toolbox, mount it to the bed so it doesn't slide. Additionally, drill a hole near the bottom of the toolbox and deburr it before running cables.
What Is The Best Onboard Air Compressor For Tires?
We thought that the ARB CKMA12 was the best overall onboard compressor for tires because it can quickly inflate small to large tires in just under 5 minutes, depending on the size.
Since there is a generous CFM, it has the capability to not only inflate tires but work for a variety of applications. It's small and lightweight enough to mount to just about anything and has a generous 2-year warranty.
Frequently Asked Questions
Can a portable air compressor be installed as an onboard one?
Not all portable air compressors are suitable for performing at onboard standards. Most are not weight-optimized and can't be installed onboard.
There would actually be more problems with it than the headache is worth. So with that being said, we don't suggest you use your portable air compressor as an onboard one.
Does it really matter where my onboard air compressor is installed?
No, it doesn't. You can install the onboard compressor virtually anywhere as long as there's space and scope available. Some trucks will actually come with a space for it. However, you should remember to install it where it will stay dry and less prone to shaking.
Does a perfectly sealed air compressor matter?
Since the compressor will be exposed to many outside elements, it's important to purchase a properly sealed one to ensure longevity. If it's not sealed correctly, dust, dirt, and other debris can enter the compressor and make its operation hazardous.
Final Thoughts
In our opinion, onboard air compressors should come standard on certain vehicles. They are a handy tool to have around in case of an emergency or just for fun.
They're perfect for Overlanding and if you go off-roading. It's now up to you to choose the best one for your particular needs and it is our hope that we've assisted with that in this article.