Central Pneumatic Air Compressors For Sale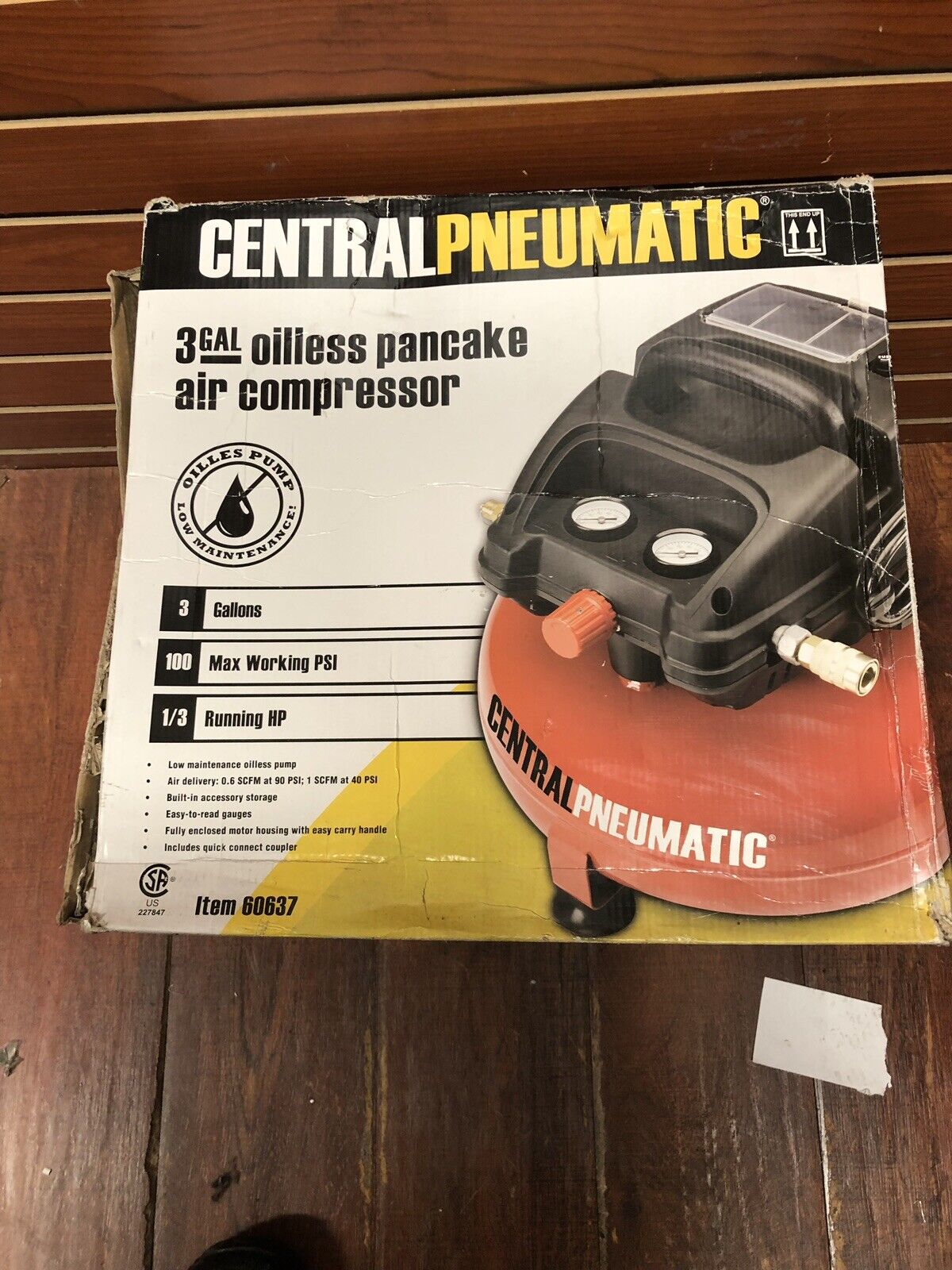 Central Pneumatic is a line of air compressors and pneumatic tools launched by Harbor Freight Tools in 1982.
Central Pneumatic manufactures its air compressors in Taiwan. In the U.S., Central Pneumatic air compressors are sold by Harbor Freight Tools through the chain of its retail stores.
Based on our research, the best Central Pneumatic air compressor is Model 61454. It offers 125 PSI and 2.5HP, which is suitable for most users. If you like to consider more commercial options, read on.
Top Central Pneumatic Air Compressors
| Product name | Max PSI | CFM Rating @ 90 PSI | HP | Tank Size |
| --- | --- | --- | --- | --- |
| Model #62779, 62913 | 180 PSI | 18 SCFM | 14 | 30 gal |
| Model #93274 | 165 PSI | 15.8 SCFM | 5 | 60 gal. |
| #Model 69783, 62404 | 135 PSI | 9 SCFM | 6.5 | 9 gal |
| Model #61489, 62765 | 150 PSI | 5.9 SCFM | 2 | 29 gal |
| Model #62441, 62802 | 125 PSI | 5.3 SCFM | 2.5 | 10 gal |
| Model #61454, 62803, 63635 | 125 PSI | 4.7 SCFM | 2.5 | 21 gal |
| Model #68740, 69667 | 125 PSI | 4.5 SCFM | 2 | 8 gal |
| Model #68067, 69669, 62629 | 150 PSI | 4 SCFM | 1.8 | 26 gal |
| Model # 62763 | 125 PSI | 3.5 SCFM | 2 | 4 gal |
| Model # 60637, 61615 | 100 PSI | 0.6 SCFM | 1/3 | 3 gal |
Central Pneumatic Alternatives
Central Pneumatic vs. Porter Cable Air Compressors
Both Central Pneumatic and Porter Cable cater to DIYers and professionals alike. In terms of specifications, the models that each brand offers fall somewhere in between consumer-grade and professional-grade.
Either of the two brands makes affordable models that suffice for light-duty jobs. Despite being on the market for a longer time, though, Porter-Cable offers a less varied assortment of air compressors.
Furthermore, air compressor models by Central Pneumatic boast a higher rate of customer satisfaction based on customer reviews.
Central Pneumatic vs. Kobalt Air Compressors
Each of these two brands makes air compressors for home and professional use alike. The air compressor models both Central Pneumatic and Kobalt offer can be considered mid-range.
If their use remains occasional and low-profile, the air compressors by either brand perform well enough.
Kobalt, however, offers a much more modest range of air compressors than Central Pneumatic. At the same time, Central Pneumatic air compressors come with a better after-sales service. As long as their warranty is valid, their parts can be replaced at a local retail outlet or service center.
Central Pneumatic vs. Craftsman Air Compressors
Similar to Central Pneumatic, Craftsman offers lower-end pricing for its air compressors. Based on specifications available, each of the two brands makes air compressors for consumer-grade and professional-grade applications alike.
Hence, both brands offer affordable mid-range air compressors. Compared to Craftsman, however, Central Pneumatic air compressors deliver the same functionality at a lesser price.
Moreover, Central Pneumatic provides a more diverse assortment of air compressors, accommodating more uses. Namely, the brand has more commercial-grade models available.
Why Should You Buy a Central Pneumatic Air Compressor?
High-Quality Air Compressors On The Go
You can count on a Central Pneumatic air compressors. They have a high-reliability rating and provide a high CFM airflow at a respectable PSI.
This means you can always be confident that a Central Pneumatic air compressor will give the air you need when you need it. They are one of the best air compressors you can get.
Central Pneumatic Air Compressors are designed with portability in mind, so they come in handy. They are very versatile machines, and they're great for small projects around the house and around the workshop.
Also, they are typically less noisy than most other air compressors in the market.
Excellent Customer Satisfaction
On the interwebs, it's not hard to find evidence indicating that consumers are happy with Central Pneumatic's equipment. Reviews of their products on just about every platform are nothing short of stellar. This company has a perfect track record.
Versatile Products
For over 35 years, Central Pneumatic has produced a wide range of generators, hand tools, air tools, power tools, and shop equipment. Central Pneumatic air compressors are often compared to other brands like Husky, Kobalt, and Campbell.
These brands are commonly available and are usually lower in cost, but they are also generally lower in quality, as well. That's why Central Pneumatic air compressors typically have a higher customer satisfaction rating, despite their higher price tag.
Whether you are filling up your car tires, pumping up your inflatable swimming pool, or just blowing the dust off the floor, central pneumatic air compressors can come in real handy. Central Pneumatic Air compressors are high for this sort of work.
The thing about Central Pneumatic air compressors is that even though they are commercial-grade tools, they are also suitable for light use. This is because they are so easy to use.