7 Best 150 PSI Air Compressors [Detailed Buyers' Guide]
150 PSI air compressors are a class of air compressor where tank pressures are in the range to operate air tools.
This type of air compressor can be found in home garages, and they usually have an oil-free design. The best 150 PSI air compressor will be durable, will have a 78.5 dB noise level, and also will have a flow rate of 2.6 CFM at 90 PSI.
In this review, we are going to take a close look at the top 150 PSI air compressors. We will rate them based on PSI, CFM, HP, Design, and Reliability.
After that, you'll find buyers guide where we will take you through how to choose the best 150 PSI air compressors.
Best 150 PSI Air Compressors
PORTER-CABLE Pancake Compressor is made with a pancake style tank that provides optimal stability. It also has a water drain valve, rubber feet and generates 150 PSI.
The higher-pressure design provides more extended air tool performance and features a 2.6 SCFM at 90 PSI, allowing for quick recovery time. Its oil-free pump requires almost no maintenance. This compressor has a low AMP 120V motor that starts without any problems in cold weather.
It is also equipped with an extendable power cord that eliminates any power supply issue. All of its key parts are shrouded in hardcover for maximum protection. This compressor has a 6-gallon tank and is easily transportable.
The unit comes with a one-year limited warranty on its components. For further convenience, two regulated factory-installed air couplers support two users at once.
CHECK PRICE NOW
The CRAFTSMAN 6 Gallon air compressor features an oil-free pump for maintenance-free operation and a long life of the unit. It is lightweight and portable, as it weighs in at only 30 lbs. It is the preferred choice of those who need a long run-time and quick recovery of their compressor.
Proudly manufactured in the USA with high-quality materials in Jackson, Tennessee, the compressor's 6-gallon pancake tank maximizes portability and pressure of the stored air.
CHECK PRICE NOW
Features:
Durable, oil-free pump for long life and no maintenance

150 MAX PSI to ensure adequate cut-in pressure for a variety of applications

2.6 SCFM at 90 PSI allows for quick compressor recovery time

Easily starts up in cold weather

2 Couplers to support two users

Made in the USA with quality materials

Lightweight: 30 lbs
3.Bostitch BTFP02012 6 Gallon 150 PSI Oil-Free Compressor
The Bostitch BTFP02012 6 Gallon 150 PSI Oil-Free Compressor is a portable and lightweight unit. It features an oil-free, maintenance-free pump that delivers 2.6 SCFM at 90PSI and a maximum tank capacity of 150 PSI.
This allows for a long tool run time and quick recovery. The 78.5 DBA rating is perfect for a quiet work environment.  It is equipped with a BOSTITCH high-efficiency motor that is undaunted by cold weather.
The unit comes with a 50-feet cord extension. The BOSTITCH high flow regulator and couplers maximize air tool performance. It has two universal couplers that can easily support two users at the same time. At only 29 lbs weight, this unit is easy to move around and store. 
Features:
150 max PSI 6.0-gallon tank (22.7 L) and 2.6 SCFM delivered at 90 PSI pump

High-efficiency motor for easy start-up in cold weather

78.5 dBA operational noise level for a quiet work environment

High flow regulator and couplers to maximize air tool performance

Long-life oil-free, maintenance-free pump for convenient use
CHECK PRICE NOW
4.Husky 8G 150 PSI – 150 PSI Hotdog Air Compressor
This 8 Gal. Portable Oil-Free Electric Air Compressor is ideal for completing a multitude of household inflation jobs, such as bike tires, car tires, sports balls, pool toys, and air mattresses. It efficiently handles brad and finishes nailers for trim/finish jobs, arts and crafts projects, and household repairs without a hassle.
The compressor has rubber wheels, which make it easily transportable. This unit comes with a 2-year limited warranty that covers defects in workmanship or materials. The warranty is specific to this air compressor model.
Its warranty applies only to the original retail purchaser and may not be transferred. This warranty does not cover normal wear and tear or any malfunction, failure or defect resulting from misuse, abuse, or neglect.
This is a piston compressor, and on each stroke, the noise emanating from the inlet is quite substantial. Thus, you may need to wear earplugs. However, that doesn't affect how well it runs. On the whole, this is a good compressor for the money.
CHECK PRICE NOW
The 150-PSI, 8-gal Kobalt horizontal electric portable air compressor is perfect for use with a variety of power tools. It's 120-volt, 1.8-HP copper winding induction motor provides smooth operation.
Just like the models discussed above, this unit has an ab oil-free pump that requires less maintenance. It also has a control panel with 2-in steel case gauges, a regulator, and a quick brass coupler for easy access and operation.
This unit's removable handle and rubber wheels provide easy transportation and storage. It comes with a 6-ft power cord with strap, while its pump and motor are fully-shrouded for maximum noise reduction.
CHECK PRICE NOW
The 29 gals. Tank on this air compressor gives the boost you need to operate your pneumatic tools and equipment properly! 
This air compressor's 2 HP motor allows up to 150 PSI of air at your hands. Its key features include a conveniently placed handle, smooth-rolling wheels and a fully shrouded pump and motor.
Woodworking shops, metalworking shops or anywhere where pneumatic tools are used can benefit from this air compressor! 
CHECK PRICE NOW
Features:
Oil-lubricated pump for reliable performance

Twin capacitor motor for easy start-up

Adjustable handle and semi-pneumatic tires for easy maneuvering

Thermal overload protection

Dual pressure gauges and built-in quick coupler
This horizontal air compressor from Craftsman has a very efficient and durable electric, 1.6 hp motor, and an oil-free pump. Its design ensured quieter operation. 
Its 33-gallon tank and 150 max PSI provides more power for a longer tool running time. The unit also comes with an extension cord of up to 50 ft. This is a stationary unit weighing at 119 lbs. 
CHECK PRICE NOW
Technical Specs:
Oil-Free Pump Design – Maintenance-free with no oil to add

Quiet Operation – 78dBA per ISO3744

Extension Cord Friendly – Use with a 12 gauge (or higher) extension cord up to 50 ft.

Rated to ISO1217, the internationally recognized standard for measuring SCFM

High flow coupler & regulator for maximum air tool run time
Buyer's Guide
Personal use compressors are smaller, more compact units that focus on portability more than anything else. Most of the models discussed above are compact and lightweight, so you can quickly fill sports balls, car tires, or inflatable pools.
Yet, they have some capacity to support pneumatic power tools. Pancake compressors and hot dog style compressors are the best for semi-professional use
Semi-pro Pancake Compressors
Pancake compressors have a squatted, round air tank with the pump sitting on top of it, a design that has much in common with a propane tank.
They are designed to be easily moved around and can cope with everyday tasks like inflating tires, most nail guns, staplers, or airbrushes.
Pancake compressors typically come with six-gallon tanks and just enough pressure to operate a brad nailer and other smaller air tools. The average price for these pancake-style compressors is around $100. 
They require very little maintenance and are very portable – just don't expect them to run air tools that need more CFM. They are usually fitted with an electric motor that is more often than not oil-less and does not require any serious maintenance.
Semi-pro Hot Dog Compressors
The Hot Dog models are designed for mobility, low maintenance, and ease of use. They are so named for their cylindrical tanks, short and rounded off at the ends, like a hot dog. 
Hot dog air compressors can hold more air in their tanks. There are models with 12-gallon tanks. Their price may range, but you can expect to pay between $100 and $220 for small units. Heavier-duty models may cost up to several hundreds of dollars. Hot dog air compressors can be horizontal or vertical.
Features To Look For
Oil-free motors provide maintenance-free conditions making them less of a hassle to store and run. Models with low noise levels make them suitable for indoor use, even with people around.
You can find single or dual tank hot dog style compressors in the marketplace, but our experts consider the dual tank models to be geared more towards professional use.
Frequently Asked Questions 
What size of compressor do I need?
In order to determine what size compressor will meet your requirements, you need to establish how it will be used. For example, if you will be using it to power air tools, then you need to determine the CFM of each device.
There are many applications for air compressors. If you need help deciding which size is best for you, please contact Mi‑T‑M at 800-553-9053, and we will be happy to assist you.
What kind of air compressor do I need for air tools?
Single tool use: If a 1/2″ impact wrench requires 5.0 CFM at 90 PSI, then the unit should deliver between 6.25 and 7.5 CFM at 90 PSI.
Multiple tool use: If you plan to run more than one tool at the same time, you must add the CFM of each device together to determine your needs.
What are CFM and PSI?
The notation CFM (Cubic Feet per Minute) refers to a volume of air produced by the air compressor at a given pressure or PSI (Pound per Square Inch). The right size air compressor will meet your needs in two essential areas: airflow (CFM) and pressure (PSI). 
Conclusion
Thanks for taking the time to read our review. We do hope that with the information in it, you will be able to buy the most appropriate 150-PSI air compressor for your needs. Should you need any further information, do not hesitate to reach out to us.
Bostitch BTFP02012 6 Gallon 150 PSI Oil-Free Compressor
7 new from $129.00
Free shipping
Check It Out
Amazon.com
as of October 27, 2021 10:18 pm
Features
The portable air compressor has a long-life oil-free, maintenance-free pump for convenient use
150 max PSI 6.0 gallon tank (22.7 L) and 2.6 SCFM* delivered @ 90 PSI pump enable long tool run time with quick recovery of the electric air compressor
BOSTITCH high efficiency motor of the 6 gallon air compressor is made for easy start up in cold weather or extension cord application [14 GA or larger, 50 ft. (15.2 m) or less]
78.5 dBA** operational noise level for a quiet work environment
29 lb. weight makes unit easy to carry and store
GSPSCN Silver Inflator Heavy Duty Double Cylinders with Portable Bag 12V Metal Compressor Pump 150PSI with Adapter to 150 PSI for Car, Truck, SUV Tires, Dinghy, Air Bed etc
1 new from $59.87
Free shipping
Check It Out
Amazon.com
as of October 27, 2021 10:18 pm
Features
FAST INFLATION: GSPSCN Heavy Duty Double cylinder design,maximum pressure 150PSI, air flow 70L/min, inflates standard vehicle tire in 1.5 minutes (200/70/R18, 0-40psi)
STABILITY TECHNOLOGY: Rubber feet to make sure the 12V air pump stays where it is placed and does not move around during operation ,make the air compressor more powerful,effectively reduce the vibration and noise
DOUBLE CYLINDERS DIRECT DRIVE INFLATION PUMP: In the direct drive of the motor, the two cylinders at the same time compressed air, powerful and fast inflatable, direct drive motor makes the drive low rotating speed, high efficiency, compact, quiet,stability, and easy to control
WORKS: particularly suitable for SUVs, trucks, vans, RVs, crossovers, MPVs, campers,Auto, trailers, minivans, also can use for cars, motorcycles, golf carts, bicycles, and more
【TRAVEL GIFT 】: During your car trip, carry our GSPSCN little air compressor, which is easy to use and keep your tires in good condition.You can buy a little tire inflator as a gift to your friends or family.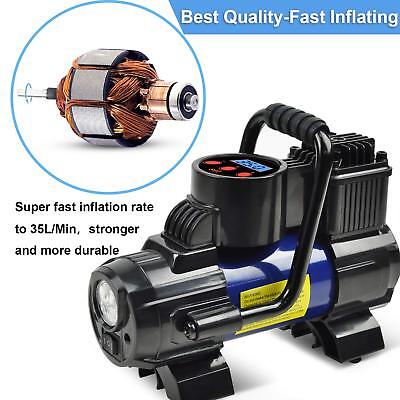 Ebay.com