Best 12 volt Air Compressors [DIY , Air Horn, Tires]
12 volt air compressors are great tools to have if you are a DIY enthusiast or a professional handyman. They can be used for various purposes from pumping up a tire to working with a nail gun.
Did you know that tires that aren't kept properly inflated can increase your vehicle's gas consumption per mile, as well as the chance of a road accident?
Having a 12-volt air compressor on hand will allow you to keep your vehicle's tires properly inflated, as well as the tires of your bicycle, motorbike, and even your motorized wheelbarrow.  You can even use it to inflate your children's footballs, basketballs, volleyballs, etc.
The purpose of this article is to inform you about the best 12v air compressors available on the market right now. In the Buyer's Guide section, you will find all the things you should know before you buy the one that will best meet your needs.
Best 12 Volt Air Compressors
At a retail price of just under $150 per piece, this is the heftiest 12-volt compressor you can possibly get. This is a top-range portable air compressor that can inflate up to 31" tires by easily clamping the power leads to your vehicle's battery. 
You can precisely monitor the tire pressure with the help of the five-in-one deflator/inflator inline pressure gauge. It has a maximum working pressure of 150 PSI and 2.3 CFM free flow at 0 PSI.
In addition, it has direct heavy-duty double battery clamps that have a 40-amp inline fuse. The extras include an anti-vibration tray and deluxe carry bag.
300P Air Compressor Technical Specifications:
Motor voltage – 12 volt

Motor type – Permanent magnetic

Max. duty cycle: 33% @ 100 PSI

Max. working pressure – 150 PSI

Max. Amp draw – 28 Amps

Continuous use @ 72°F & 30 PSI – 40 min

Max. ambient temperature – 158°F

Min. ambient temperature – -40°F

CFM @ 0 PSI – 2.40

Fuse – 40 Amps

Inline pressure gauge – 100 PSI

Auto. Reset thermal protection – Yes

Dimensions – 9.80″L x 4.90″W x 7.50″H

Net weight – 8.60 lbs
Sale
Last update on 2022-01-24 / Affiliate links / Images from Amazon Product Advertising API
2.Viking Horns V3305/307 Loud Train Sound Air Horn System Kit – Best 12 Volt Air Compressor for Air Horn
Viking Horns offers the most comprehensive selection of air horns, sirens, and pneumatic accessories. Their quality engineered components have become the industry standard for 12-volt automotive aftermarket applications worldwide.
Their goal is to consistently deliver performance, reliability, and value to our customers. This air horn compressor is a compact and designed for air horn system for tractor-trailers or schoolyard. It measures four and a half inches in height by two and a half inches in diameter and has an all-metal housing. 
The compressor generates 18PSI of air pressure which is enough to supply one, two or three trumpet air horns for direct drive operation.  It installs easily with a built-in mounting tab and two electrical terminals. This is an excellent replacement compressor that allows you to get the maximum sound out of your air horn.
Technical Specs:
Power: 12VMaximum Pressure: 18 PSI

Color: Chrome

Compact Design

Mounting Hardware Included

Dimensions: 4-1/2″ H x 2-1/2″ Dia
Last update on 2022-01-24 / Affiliate links / Images from Amazon Product Advertising API
The system is not built for beginners and is designed to be mounted on the vehicle for use in an on-board air system or air suspension system. It can also power air horns. Despite some limitations in its versatility in overall use, this is still a very reliable air compressor. 
A big plus is that the wiring is freeze resistant. Its accessories also include a remote mount air filter assembly, airline for remote mounting air filter, and heavy-duty terminals.
The entire system is loaded with features from top to bottom so you will definitely get your money's worth. Despite all these added features, weighs less than 10 pounds, which makes it highly portable.
This isn't your normal air compressor and relies on an on-board air system to be used. This device is for professional use and should be operated by skilled professionals only.
In this regard, it comes with a whole bunch of highly-informative user manuals and video tutorials that will help you learn its basic functions relatively quickly. There's a 1-year limited warranty on the unit, but the high-quality parts most likely won't need to be replaced or adjusted anytime soon.
This is an awesome option for a professional handyman!
This unit is in the medium price range but comes with a bunch of high-end extras to complete the package. 
Technical Features:
150 PSI MAX 

2.54 CFM free flow at 0 PSI 

Oil-less design

Easy mounting

Permanent magnetic motors

Brush DC

Vibration isolators
Sale
Viair 40040 400C Air Compressor Kit Silver, 12v 152psi
12 VOLT - 150 PSI Max Working Pressure, engine must be running during use.
2.54 CFM Free Flow @ 0 PSI
This unit is designed to be mounted onto the vehicle for use in an onboard air system or air suspension system. Can also be used to power air horns.
Last update on 2022-01-24 / Affiliate links / Images from Amazon Product Advertising API
There aren't a lot of air compressors that boast quietness. The Puma Industries PD1006 Air Compressor is a whole lot more robust than other units of this size.
When in operation it produces enough power to inflate a small truck's tire in well-under two minutes. If you hook up a 10-gallon reserve tank to this compressor, it takes about six and a half minutes to shut off at approximately 130 psi. 
The pump will last for years with minimal maintenance given regular check-ups. The motor cooling fan prevents the motor from overheating. The price is quite reasonable in view of its numerous advantages.
This is a stationary unit, designed mostly for on-board use.  The unit operates smoothly on uneven terrain and in very high or very low temperature. Excess water is removed from the air through the added water trap.
If noise is your main concern and you need a big air compressor, this portable unit is just for you.
Last update on 2022-01-24 / Affiliate links / Images from Amazon Product Advertising API
MPC All-in-One 12-Volt Air Compressor is a robust machine meant for professional and semi-professional use. These compressor units are built for high performance and easy installation.
This single-piece tank compressor system has the following dimensions: 20.5″ L x 5.50″ W x 7.5″. Its h-max working pressure is 130 PSI, while the tank's capacity is four liters.
 Pressure Switch Settings: 
100 PSI on 

130 PSI off –

Duty Cycle: 15% 

CFM @ 0 PSI: 1.17 – Amp Draw
MPC All-in-One 12-Volt Air Compressor System Kit for Truck...
✅ 130 PSI One-Piece Tank Compressor System (Dimensions: 20.5" L x 5.50" W x 7.5" H) Product may not work in vehicles manufactured for sale outside of U.S. & Canada
✅ 4 Liter Steel Air Tank
✅ Kit Includes A Pressure Switch (100 PSI on, 130 PSI off) and air pressure gauge
Last update on 2022-01-24 / Affiliate links / Images from Amazon Product Advertising API
Key Features
When going from 90 to 120 PSI the recovery time is only 50 seconds. From an empty to full tank you're looking at 130 seconds. For safety, there is a thermal overload protector and two pressure control gauges so you can monitor the unit's parameters when in operation.
This is an ETL-certified compressor with a 1-year limited warranty. It has a 0.25-inch universal quick connector and you can expect an amp draw of only 7.6, so nothing that will break your circuit. Heat is managed very well by the overall design and dissipates more efficiently than in other models.
Buyer's Guide
In this section, I am going to explain some key features you should be looking for when buying a 12-volt air compressor.
If you are mostly pumping up your vehicle's tires and your kid's balls, then you don't need to invest in a professional air compressor that will occupy precious space in your garage.
A simple 12V DC compressor that plugs into your car's cigarette lighter is more than enough to keep all of your stuff filled up with the right amount of air.
Types of Sockets
You can plug your compressor into a 120-volt socket or a 12-volt power outlet, as it is usually very adaptable. You can buy a model with a rechargeable battery if you are planning to use it for building off the grid.
Some units plug into a cigarette socket, while others need a standard plug socket. It really depends on what you need to use it for. 
PSI
The PSI is very important to check before you buy an air compressor. Make sure that the air compressor's PSI is compatible with that of the other tool you're planning to use it with.
If the other tool requires a very high PSI, you need to buy a compressor that can generate it. Therefore, it's always important to check this before you buy an air compressor.
CFM
When you are looking to purchase an Air Compressor, the term CFM will certainly stand in your way. Simply put, CFM stands for Cubic Foot per Minute.  This refers to the amount of air that is being pushed down the hose and through the nozzle at anyone one time.
The bigger the value in front of the letters CFM, the more air is pushed through the compressor the more powerful the blast that it generates. If you need to power an air sander, you will need an air compressor of up to 10CFM and 100 to 120 PSI.
If you need to use an air nailer, you will only need an air compressor with a CFM of between 2 and 5 that generates PSI of 70 to 90.

Duty Cycle

Compressor duty cycle refers to the amount of time a compressor can be operated in a given time period, at 100 PSI and at a standard ambient temperature of 72°F. Duty Cycle is commonly expressed in percentile as: compressor on time (compressor on time + off time) %.
 As an example, a compressor that is rated for 25% duty cycle means that compressor can be operated at: 100 PSI @ 72°F for 10 minutes on and 30 minutes off. 10 min. on / (10 min. on + 30 Min. off) = 10 min. / 40 Min = 25% duty cycle.
Auto Shut Off
Not all air compressors come with an auto shut off. It is a very useful function, as it automatically shuts off the unit once the desired pressure in the tire or in the tank has been reached.
Frequently Asked Questions 
In this section, I wish to highlight some of the most frequently asked questions about 12 volt air compressors. 
Mobile / Portable Vs Stationary?
This is the most common question we receive from people planning to buy an air compressor. This is one of the primary distinctions between different air compressors. 
Stationary air compressors are obviously designed not to be moved. They are constructed so as to be a permanent fixture in the workshop. All of them have very large air tanks and their motors tend to be much more powerful than that of their portable versions.
Consequently, they are meant for professional use, they are more heavy-duty and their prices are much higher than that of the portable models.  Also, some of the larger stationary air compressors seem to have a much higher voltage.
Portable air compressors, on the other hand, vary in portability but they are all designed with handles, often integrated as part of a protective 'roll' cage, and some even have wheels, although the quality of the wheels themselves may vary.
They fit well in the tank of a car and they are more user-friendly and versatile. The best news is that they are also cheaper and much more common on the market.
True 12V & Higher Applications
In general, a 12-volt air compressor is still able to work with quite a lot of tools and is still very useful. Voltage is the actual pressure from the electrical circuit in the air compressor. 
This pressure then pushes the charged electrons through the wires in the air compressor. Therefore, if there were a higher voltage, then it means that there would be more energy that could be used from the exact same quantity of current.
Please note that cold weather can make your air compressor consume a lot more power. If your unit does tend to be rather slow, it's best to leave the drain plug open, as this will help it start up easier.
How Much PSI Can a 12v Compressor Produce?
The model Viair 40047 Automatic Portable Air Compressor is one of the most efficient units in this regard, as its 12 volts of power directly translate to 150 PSI of working pressure – all of which comes from your car's battery!
How to Repair a 12-volt Compressor?
This really depends on what is wrong with your compressor. If there is a major problem with it, then you should seek specialized help. There are some issues that may arise after you've used your air compressor that are fairly easy to repair.
For example, you may need to adjust the airflow by turning the upper screw. If there is a problem turning the unit on, check if it is connected properly. If it is, use the RESET button at the back of the compressor.
The third issue that you may discover is that there may be a leak. To solve this, you will need to use a plumber's tape and wrap it around where the leak is coming from.
What Should I use My 12v Compressor for? 
As one of the most portable types of air compressors, 12V units tend to be a bit less powerful than other types of air compressors. But you'll still find a range in the power of 12V air compressors, with some units designed to deliver a serious punch, and others built only to inflate car tires.
All of the units reviewed above can inflate small to mid-sized car tires without any problems, but only some of these will do the job if you need to pump up larger tires. In general, you should care a bit more about airflow than max pressure, especially when looking for the best 12V tire inflator.
What's The Best 12-Volt Air Compressor For Truck Tires?
Truck tires require some serious output and one of the units capable of delivering it is TIRE WELL 12V Heavy Duty Tire Inflator. This portable air compressor has a max PSI of 150 so it will be able to inflate your truck tires at a very quick pace.
Given that it can inflate a car tire within just a couple of minutes, so it shouldn't take much longer to inflate your truck tires as well. It has stability technology, so you shouldn't worry about any vibrations that can make the unit move around while in operation.
12V Air Compressor Final Recommendation
There is a wide variety of air compressors available online. Alternatively, you can go to your local hardware shop or department store and ask for a quote and a brochure. Some models also come with a whole range of different features from LED lights to rechargeable batteries.
With the help of articles like this one you can make an informed choice and purchase the unit that you will make the best use of. Above I have covered the key features and notions related to the operation and exploitation of these devices.
In any case, when you go to your local hardware shop, tell the assistant what exactly you are going to use the compressor for, and he will help you choose the most suitable model.
EPAuto 12V DC Portable Air Compressor Pump, Digital Tire Inflator
4 new from $32.47
3 used from $28.52
Free shipping
as of January 24, 2022 9:54 pm
Features
Convenience: Plug directly into Cigarette Lighter Socket of your Vehicle. 12VDC, 10 to 15 amps, 120 to 180W. Equipped with 12V-DC Cigarette Lighter Socket Plug, NOT 110V AC plug.
Multiple Uses: Inflate tires on cars, bikes, sedan and midsize SUV. (Engine size under 3.5 liter) Universal valve connector for schrader valve is ready to use. Additional adapters include needles value (for basketball, balls), short cone/long cone adapters (for inflatable kayak, swimming pool accessories, etc)
Capacity: Does NOT Support truck tires, for instance: light truck tires (LT), heavy duty truck tires or any truck tires.
Easy to Read: 4 Display Units: PSI, KPA, BAR, KG/CM; LED FLASHLIGHT: Bright Torch
Prevent Over Inflation: Auto shut off when reaching the desired tire pressure. Overheat protection shuts off automatically when overloading. USPTO Patent NO:D875,788
Yome Portable Dual Cylinder Air Compressor Pump, 12V 150PSI Heavy Duty Portable Air Pump with LED Flashlight and LCD Digital Display Gauge for Car Tires, Balls, Other Inflatables
out of stock
as of January 24, 2022 9:54 pm
Features
【Dual Cylinder】 Yome upgraded Dual Cylinder Air Compressor Pump is made of high-purity copper wire coil, equipped with self-balancing technology to achieve stable and accurate inflation with lower power consumption and faster power lifting. The dual cylinder's inflation is faster and safer than single cylinder. The tire pressure can be increased from 0 to 35PSI in two minutes with a dual cylinder air compressor pump.
【Intelligent Mode】 Our air compressor pump uses LED digital display with 4 display units, which can be used in dark environment. LED digital display can preset the tire pressure more accurately than dial inflation. This air compressor pump also has automatic charging and stopping, so you don't have to worry about inaccurate air pressure.
【Less Heat Production】 Air compressor pump uses dual cylinder to work at the same time and it is also covered with the heat insulation shell, which solves the problem of serious heat common with single cylinder air compressor pumps. LED lights can make it safer and more convenient to inflate tires at night, and can also serve as a warning for passing vehicles.
【Portable】 We give away a toolbox that makes it easy to store all accessories together to prevent you from losing them. Accessories include: air compressor pump, cigarette lighter switch, 10 foot extension hose, 3 nozzles, and high quality battery clamp.
【Support】If our products have any problems, our 24 hours supporting team can help you. If we cannot solve your problems, you can Contact Amazon Customer Support to replace them for free.
Viair 00088 88P Portable Air Compressor
15 new from $88.95
Free shipping
as of January 24, 2022 9:54 pm
Features
12 VOLT - 120PSI Max Working Pressure, engine must be running during use.
1.47CFM Free Flow @ 0 PSI.Max. Amp Draw: 20 Amps
Portable air compressor powered via alligator clamps direct to battery.
Good for small ATVs, trucks, SUVs, and sedans with up to 33" Tires.
LED/Power indicator, 10 Ft. Power Cord, 16 Ft. Air Hose, 3pc Inflation Tip Kit
VIAIR 300P Portable Compressor
28 new from $184.90
4 used from $170.11
Free shipping
as of January 24, 2022 9:54 pm
VIAIR 150 PSI High-Flow Air Source Kit
30 new from $249.99
Free shipping
as of January 24, 2022 9:54 pm
Features
Designed as an onboard air solution for actuate air horns.
Includes pre-installed parts which is as follows, 110/145 PSI automatic pressure switch, drain cock, pressure safety release valve and 1/2 inch air-out compression fitting
150 PSI maximum working pressure
Replaceable/relocatable air filter element for harsh environments
Sealed compressor, relocate air filter if operating in outside environment. Product must be mounted rightside up and drained from moisture after use.
SuperFlow Portable Air Pump, 12 volt Air Compressor, Tire Inflator 140 PSI, 12v air compressor for Cars, Trucks, and Bikes.
out of stock
as of January 24, 2022 9:54 pm
Features
CONVENIENCE: Be responsible and always have air when you need it. The HV-35 is a versatile air pump you can take with you everywhere. Includes a convenient nylon carry bag, two adapter nozzles, and a ball inflation needle.
MULTIPLE USES: The SuperFlow HV-35 portable 12v air compressor is not essential for topping off your car's tires. It's also your "go to tool" for for filling up the tires of bicycles, soccer balls, or small inflatable water tubes for your beach activities.
EASY TO USE: Plugs into your cigarette lighter, attaches to tire with 16ft air hose, and easily turns on with a flip of a switch. Fills a tire in less than 3 minutes.
COMPACT: Don't let its size fool you, this portable air compressor has1300 cubic inches of air output. It conveniently powers from your cigarette lighter.
GREAT GIFT IDEA: Safety is a priority when you're on the road. Whether it's a teen with their first car, a college student or an adult, this is the perfect gift for any occasion, and it'll always fit.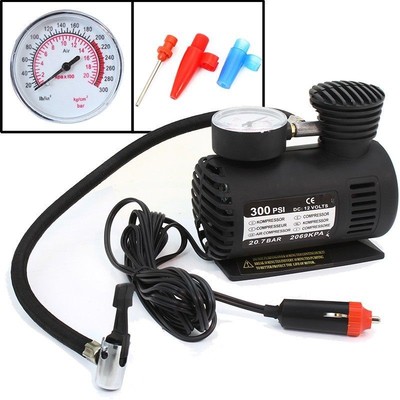 $12.95
$27.20
out of stock
Ebay.com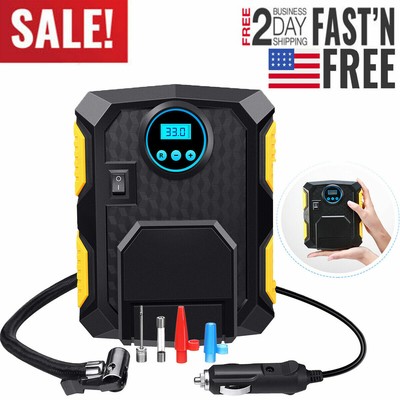 Ebay.com